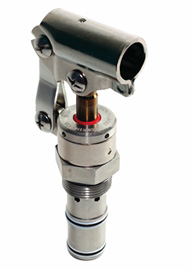 First of its kind, Doering introduces new hydraulic hand pump that delivers more pressure and requires less force
Clear Lake, Minn. — Doering Company announces the introduction of the DCHP163 cartridge-style hydraulic hand pump, which provides high-pressure output with the same lever force on both up and down strokes. This innovative cartridge high-pressure hand pump displaces large amounts of hydraulic, water glycol or other fluids faster, with fewer strokes than competitive products. Requiring less handle force, the DCHP163 is ideal for emergency, primary, backup and hydrostatic testing applications.
"Most industrial hand pumps are single-action, only pressurizing on the downward stroke of the pump's lever," explains Marty Dombroske, vice president at Doering Company. "The new DCHP163 is engineered for double action. Hydraulic or other fluid is pressurized during the downward and upward strokes, making it much quicker to operate." read more
---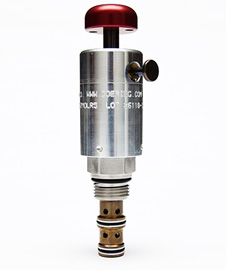 Doering Company's redesigned manual cartridge valve now includes a zero-leak option.
Clear Lake, Minn. — Doering Company has redesigned its manual cartridge valve to include a zero-leak option. This is similar zero-leak technology that was integrated in the Doering valve used for manual fire suppression in the International Space Station.
The demand for Doering's redesigned manual cartridge valves has grown rapidly for a wide range of applications. They are ideal for use in equipment, such as an emergency stop valve on hydraulic systems for oilfield iron roughnecks and industrial instrumentation systems that test product to one-eighth of a drop of water. Doering valves are also used in food industry test systems that measure carbon dioxide and nitrogen in the parts per billion. read more
---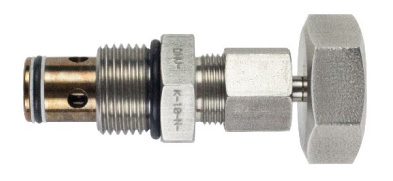 Doering Company announces lower product prices with improved quality and lead times
Clear Lake, Minn. — Doering Company, manufacturer of high-quality industrial valves and pumps, has announced a change to its product pricing structure. In addition to more competitive pricing, the company's success with lean manufacturing has reduced lead time from 21 days to less than 10 days for standard products. Through improved processes and retaining high-quality materials, Doering also achieves higher overall product quality while maintaining service excellence. read more
---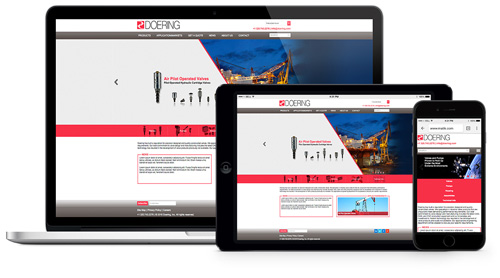 Doering introduces newly redesigned website
Doering announces their newly designed website at www.doering.com. The new mobile-friendly website offers customers optimum viewing on any mobile or desktop device. The cleaner, updated contemporary look supports the innovative, high-performance market position of Doering.
The website features a user-friendly dealer locator and quote request. Doering will continue to add resource information, such as application information, case studies, white papers, articles and more.
---
Check out our new product selector!
Easy search with filters to find what you are looking for.
Downloadable 3D models.
Copy functional symbols to paste into your schematic.
One click to our specification sheets for more information.