LOCK VALVE, PILOT OPERATED CHECK VALVE HYDRAULIC
Metro's lock valves, is a pilot operated check valve, is designed to lock a hydraulic cylinder and prevent them from drifting due to hydraulic leak from a directional control valve being in the neutral position or worn hydraulic valves or even a hose failure.
Double Lock Valves: 407, 408 and 409, will lock a hydraulic cylinder in both directions.
Single Lock Valves: 411 and 412, will lock a hydraulic cylinder in one direction.
Applications:
Loaders, outriggers, backhoes, work platforms and cranes.
Any hydraulic circuit where you want to hold a cylinder in place with no hydraulic leakage.
Features:
Rated for 3,000 psi (207 bar)
Engineered for -22° to 194°F (-30° to 90°C) operating temperatures
Made in the USA
Fast 10-day delivery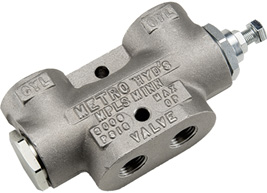 Doering designs and manufactures precision valve and pump products. Many of our products are designed for high pressure, zero-leak applications, and are available in a variety of materials, including Stainless Steel. We are constantly adding new products so please
contact us
if you can't find what you are looking for.